News
UNDERSTANDING SERVICEMEMBERS CIVIL RELIEF ACT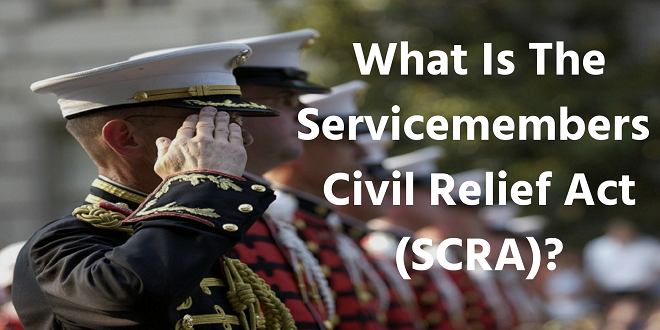 The Servicemembers Civil Relief Act, also known as SCRA, is designed to reduce the financial burden on military personnel. These financial obligations include tax obligations, credit card interest rate, life and medical insurance premiums as well as security deposits, mortgage foreclosures and rental agreements. The SCRA is a great benefit to active service members of the army and navy as well as the coast guard and marine corps. These are just a few of the things you should know about SCRA.
The Purpose Of SCRA
SCRA was created to reduce the financial burden on military personnel. This allows military personnel to focus on their duties of protecting the country's safety and security and being ready to defend it against threats. A military verification agency is required for any person wishing to participate in a court proceeding covered by the SCRA. This will ensure that they are qualified for the protections provided by the SCRA. A military verification agency can verify a person's current military status to determine if they are on active duty.
Who The SCRA Protects
All active-duty military personnel, reservists, and guard members are covered by the SCRA. The protection they receive usually begins on the day that they report for duty and ends 30 to 60 days after they are discharged. Safety is provided to the families of military personnel.
SCRA Protections: Reduced Interest Rates SCRA Protections are available to those who qualify. This protection allows for a lower interest rate, which is limited at 6%. This rate covers all obligations that were incurred before the person joined military service. If home loans are the cause of the interest rate, the interest cap remains in effect for one year.
There is a delay in the foreclosure process. The SCRA can delay foreclosure of property that is owned by a person for up to nine months after their service ends. This protection can be waived if the plaintiff has a valid court order. These military personnel should contact the appropriate legal assistance agency immediately they have missed a mortgage payment.
Taxes on deferred income The SCRA statute also provides a benefit that allows for deferred income taxes. If the person's ability to pay is significantly affected by their military service, they can claim this benefit.
Summary
The SCRA protects active military personnel from financial hardships. They are protected against repossessions, nonjudicial foreclosures and installment contracts. It is important for military personnel to be familiar with the law in order to ensure they get the benefits they deserve and uphold their rights.
Read More: Telugu Naa Songs